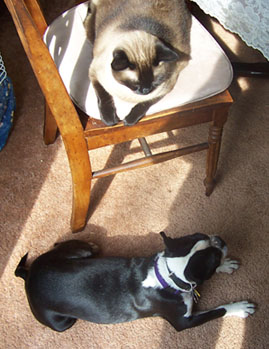 We adopted our one year-old Boston terrier, "Shadow", from a rescue group, and quickly realized that she was in need of training. She had issues with barking and getting extremely out of control when she was near other dogs. We'd had dogs in the past, but none ever acted this way.
Try as I might, I was not able to correct these behaviors. In addition, we also had problems getting her to stop chasing our house cat, Snickers. Having lived with our other dog for two years, Snickers was used to being around a dog, but it was obvious that Shadow was not used to being around a cat… These two issues were our greatest concerns, and we also wanted her to have some basic training as well.
While searching for a local trainer on the internet, I found Canine Magic. After meeting with Terry, my husband and I decided to sign up for her course.
From the very first lesson our dog was transformed; the difference was truly like magic. I am now able to take her on walks as she stays by my side without pulling on the leash, and she no longer goes nuts when we pass by the other neighborhood dogs. After just one week, she no longer acted up. It is a great feeling to actually be able to enjoy our walks now. As for the cat, Snickers can now walk by Shadow without the threat of being chased.
I still work with Shadow and will attend group classes to continue her training. We are so happy to have found Terry and Canine Magic.
Donna & Jerry Buckland
Billerica, MA
October, 2010