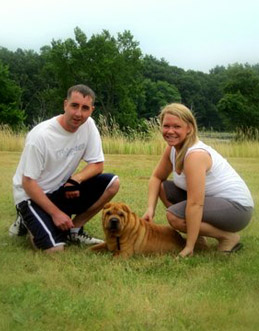 Our story is about our wonderful dog, Rubie. She is a miniature Shar-Pei and almost 3 years old. By nature, Shar-Peis are very dominant dogs and can be aggressive if not socialized properly when they are young. Due to extensive eye surgery at 6 months of age, and for the next 6 months, she was required to wear a protective cone around her head. During this time, she was not supposed to be around other dogs to insure her eyes healed correctly, and she needed to be kept stress- free. Once the cone was off, my fiancé and I immediately signed her up for obedience training at one of the local Petsmart locations.
We quickly learned that Rubie was fearful of other dogs and did not know how to act with them. During the hour-long class, she would continuously bark. After the first week, the trainer made us stand behind a cardboard wall in the corner of the class for the entire time. We felt like outcasts, and it was clear that the trainer did not have the time nor patience to work with us. After 3 weeks, it was suggested that we not come anymore, as we were disrupting the other dogs in the class. I should also mention that this was our first dog and therefore we weren't exactly sure what we should or shouldn't be doing.
Over the next 6 months, Rubie started to become increasingly dominant at home and began to show signs of aggression towards us. During this time, she was allowed on the couch, slept in our bed, and ignored all of our commands. She was a brat, and slowly became the queen of the house, or "alpha". When she was told to do something that she didn't want to do, or if we went near her food or bones, she would show her teeth and warn us to stay away. Eventually we both ended up getting bitten, which didn't seem to faze her in the least.
Taking her for a walk was another chore. She pulled the entire time, barked at cars, and chased after squirrels and birds, so our route was planned in an effort to avoid seeing other dogs at all costs. If she did see another dog, she would growl and try everything to get to it. We hoped that things would get better, but they just got worse. She also slipped out of her collar on two occasions, running loose and coming very close to the street. When we called her name and ran after her, she'd look at us and run the other way as if it were a game. She'd ruined sneakers, shoes, eyeglasses, and anything else that was within her reach. Cleaning her ears and cutting her nails was also a struggle, and it took both of us holding her down with a muzzle to succeed. We knew we had to do something. She was out of control.
After searching the Internet, we came across the website for Canine Magic. We read every single success story, and were overjoyed that there might be someone out there who would be able to help us. We had our initial consultation with Terry and definitely felt as though she could help us. As we began the group sessions, we were nervous because we knew how Rubie was around other dogs. Because of her aggression issues, she started out wearing a muzzle. During the first class, our only task was to try and keep her from barking the entire time. Each week, she began to bark less and less, and she started to realize that we were in control. She would throw hissy fits every now and then because she still wanted to be the boss, and she didn't like being told what to do. Terry encouraged us to keep at it, and to never let her win. Everything that we were taught in class we continued at home. We were determined to get her to become the dog that we always wanted. Rubie continued to progress week to week. Even if the progress was small (like not barking as much), it was still noticed. In the beginning, she would shake like a leaf throughout the entire hour, then sleep for the rest of the day because it took so much out of her. After a couple of months, Rubie didn't need her muzzle any longer. Terry was careful to take meaningful steps with Rubie each week, and never pushed us out of our comfort zone.
The thing we like most about the class is that nobody ever passes judgment. Everyone is there for a reason. Saturday morning classes have now become one of our favorite times of the week. Today, Rubie is relaxed and confident, and can walk past other dogs without barking or hesitation. Before training, the only looks we got were that of disgust or fear, now people complement us on every walk, telling us how cute and well behaved she is. She now looks up at us, and we look back at her in amazement of just how far she has come.
Terry has been an amazing coach, mentor and friend to us. I would recommend her to anybody that is having issues with their dog, or just needs obedience training. No, she is not a magician, and she will remind you of that. But she gives you the advice and tools that are needed to make a change. We truly believe that the key to this training is consistency. We have never strayed from anything that Terry has taught us, and from the beginning, we both felt comfortable enough to put all our trust in her because we believed that she could help us. I have to say, we dreamt of the day we would be asked to write our very own success story, but wondered if it would ever happen. Rubie is now a dream! She is everything we have ever wanted in a dog and more. She understands her role in the family, and shows us her love like we had never seen before. It is now such a joy and pleasure to have her in our lives.
As I write this story, we are smiling from ear to ear knowing that the bad times are behind us, and we look forward to an exciting and enjoyable life ahead with Rubie!
Jenessa & Ken
Lowell, MA