One day while searching the web for another behaviorist I came across Terry's website. After reading the testimonials I figured "why not" and sent her an email. After speaking with her and meeting her and her dogs I figured it was worth a shot. Within the first three appointments Nubis walked right by my side and had the start of a recall. I started, hesitantly, letting her off leash. I finally realized what a huge change Terry made in our life one Sunday when I took her to the beach and let her off leash to run with the other dogs. Normally those outings ended up with me shouting and running after her, but not this time; wherever I caller her back to me she came right away. We BOTH had a happy and enjoyable day at the beach for the first time in three years.
Her anxiety and fear took a bit longer to see a change, but that has also improved to the point where she will actually lay in the living room in the middle of the floor!! I know it does not sound big, but this is a dog that spent every minute under a pillow or blanket for over a year.
Terry has made both our lives much better. Nubis is a much happier and more confident dog. Now when we go for walks everyone is amazed at the changes in her and how well trained she is. I hear "that is a well trained dog" almost daily. I couldn't imagine what our lives would be like if it were not for Terry and all her help and guidance. My "broken" dog has been fixed.
Heather Ferguson
Ipswich, MA
Training Update 07/2010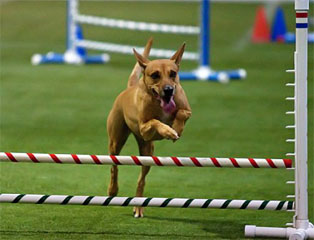 About 2 years ago, I felt that Nubis and I needed a new training challenge, so I decided to contact a local agility training center. Initially, I was only planning on doing this as an outlet for her boundless energy, and to hopefully continue to build her confidence even more. I had resigned myself to the fact that with her past history of fearing loud noises (clapping, thunder, and gunshots, etc.) and crowds, competing with her was totally out of the question. Agility trials can be noisy places and there are lots of people. While she had come a long way from when we started working with Terry, she was still not totally comfortable in those situations.
After about 8 months of training, and much prodding; our agility trainer convinced me to enter our first trial! It was outdoors, and we figured that would be better since the noises would dissipate more quickly. So enter it we did, and to my amazement, we had great success! She didn't race around the course; instead, she stayed close, and kind of trotted along side of me. BUT… we had three qualifying runs on our very first try! This is a huge deal for a "baby" dog!
It's been a full year since that first day, and now we're competing at least once a month, and this winter, we began attending indoor trials! She is closing in on her 1,000 point title in Level 1, and has gained enough confidence that she will now run (instead of trotting beside me) at certain points of the course.
It's almost hard to believe as I see her running the course; head high, tail up, having a great time, that she was ever the frightened little dog who used to spend most of her time, hiding under a pillow…