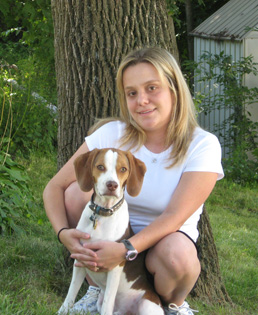 Our story began when we adopted our four-month-old beagle, Scooter, a rescue from a Tennessee shelter.
At first, I tried traditional obedience training, but he continued to pull me when on his leash, still jumped on people and still barked continuously. This was very disappointing to me, because if he were well trained, I would be able to bring him to work with me. So I began searching the internet for other training alternatives, and that's when I found Terry Christie, and Canine Magic. After our initial meeting, I was convinced that this was the answer to all of our Scooter's issues.
Right from the beginning, he immediately seemed to respond to the training techniques that Terry uses, and after the first few sessions, the changes in his behavior were major.
He was no longer pulling on the leash and the barking and jumping became a thing of the past.
I am pleased to say that Scooter now comes to work with me every day! He always greets our customers with a wagging tail as he sits quietly and comfortably on his chair, and never leaves his place unless invited to.
I am very proud to say that Scooter recently received the American Kennel Club "Canine Good Citizen" award along with my other dog, Sammy who has also been helped through Terry's programs
All I have to say is; "Paws Down", Terry's training techniques work wonders, and I would recommend Canine Magic to every one!
Leslie & Brandon Filomeno
Methuen, MA