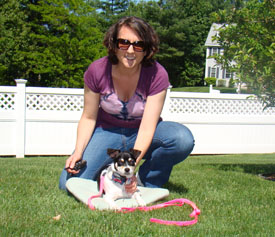 How much trouble can a ten pound dog be? Not much, or so I thought…
When we brought Rocco home at 12 weeks of age, he was a perfect bundle of joy. Everyone was in love! Snuggles, kisses, and lots of love was heading his way. We started right off with "exercise", "discipline" and "affection", but it didn't seem to be working… He growled at my daughter, snapped at the vet as he tried to trim his nails, and eventually ended up biting me. Despite our best efforts, we just didn't seem to be clearly communicating our rules or his designated role within our pack.
Now I am an intelligent person, a teacher, a mother of well behaved children, an avid fan of Cesar Millan, "The Dog Whisperer", and I have even read all his books. So how hard could it be to train a Chihuahua? The answer; VERY!
Then I found Canine Magic, which couldn't be named any better!
Just like magic, Rocco began instantly learning, and has now become the best behaved puppy on our street. It is remarkable how quickly the relationship with your dog can be transformed! He is now a pleasure! He's sweet and gentle, responsive to our commands, and most of all, he's respectful in relation to his place in the pack, and no longer feels the need to "take on" every dog or man that crosses his path… We now love him as a member of our family!
I am truly grateful to Terry for all she has taught Rocco and our family about living with a dog…