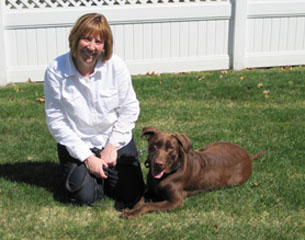 My story began with the sudden death of our beloved German shepherd, Tasha. When we lost her we lost a member of our family, and needless to say, we were extremely distraught by her passing. When asked if I would ever consider welcoming another dog into my life, the answer was a resounding NO! Then one day approximately three months later, while still feeling the loss, a friend of mine asked me the question again, but this time to my own surprise I replied "maybe, but If I ever do, it would have to be a different breed." "I think I would like a happy, friendlier dog; possibly a Lab."
No sooner had the words left my mouth when she told me her best friend had a 4 month-old Lab puppy that she could no longer keep, and was searching for a new home. Would I be interested? One week later, he was ours… His name is Brady, and he is a handsome, friendly, happy-go-lucky puppy, with more energy than I could have ever imagined, and it wasn't long before I began to fear just what had I gotten myself into…
Brady was difficult to manage right from the start. He would bark all day, and no matter what I tried, nothing seemed to stop him. I spent lots of money on toys and bones to keep him occupied, but still to no avail. He also had the great habit of knocking people over, particularly guests to our home. At this point, I decided that professional training was the way to go, so I enrolled him in a 10-week obedience program. When the class was over and to my disappointment, I still had the same out of control dog I started with, only now I had $185 less in my pocket… Not only had the old behaviors continued, but he had now graduated to destroying my home!
Maybe he wasn't getting enough exercise? So now I decided to let him burn off some energy at the dog park in the hopes that it would calm him down, and to also give him a chance to socialize. To my dismay, his newfound freedom just escalated the already "out of control" behavior. While off his leash at the park, Brady would run full steam ahead towards other dogs and their owners; neither of whom seemed to appreciate his enthusiasm… If he was distracted, and what didn't distract him, there was no getting him back! By now it was becoming very clear that I had no control over my dog, and had unwittingly bitten off more than I could chew. What was I doing wrong? I had been through training with Tasha... At this point I was so discouraged, that I wasn't even sure if I could keep him any longer. I was heartbroken. Then one night while in tears, I began surfing the web hoping that maybe there would be help out there; that's when I found Canine Magic. As I read through the success stories, I began to feel a glimmer of hope. So with blind faith and another financial investment… we signed on.
Fast forward…
We are now in our 6th week of training with Terry Christie, and I will tell you that everything I read on the website is true! Brady no longer jumps on people, barks indiscriminately, or counter surfs, and has stopped destroying our home. He now walks beautifully both on and off-leash and he has learned to ignore most distractions. The difference is amazing! Brady and I are a team now, and this has made all the difference. I have set the bar high, not only for Brady, but for myself as his trainer as well. Thanks to Terry Christie and her support, he is a pleasure to be around and we now have the relationship and life I always dreamed of.