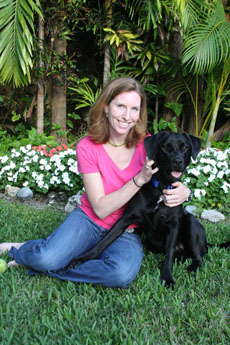 My black Lab, Bailey, was given up for adoption after her first year of life because she was "too much to handle." When she first came home with me, I found her to be extremely smart, but super-high energy. It was very difficult to get her to listen to me, and to make matters worse, she just wasn't interested in food as a reward,and so traditional training didn't work.
Terry was recommended by a friend, and although her price seemed steep compared to the local classes in my neighborhood, the consultation was free, so I thought I would go check her out.
During that initial consultation, Terry observed the interaction between me and my dog and was able to get an immediate sense of not only where my dog's behavioral issues were coming from, but also where I had gaps in my knowledge regarding how dogs think and relate to us and each other. After the first session, I noticed an instant change in my dog's behavior. Despite her high energy, I was finally able to get her attention and keep it.At first I was reticent to use the e-collar, but after trying it on myself I realized it DOES NOT HURT. It is simply a means of getting your dog's attention when voice isn't enough. It is NOT used as punishment. I used it primarily for training, and very rarely need to use the stimulus anymore unless my dog is really distracted by something else and can't hear me. It has now been over a year since I last saw Terry or attended a class, and every single time we are out, I still get compliments on my how well-behaved my dog is. I swear sometimes she speaks English because she understands me so well. Gone are the days of her jumping up on people, pulling on her leash, counter-surfing, ignoring commands, and helping herself to whatever, whenever she wants. Terry's training is so much more than training the dog to listen to you; it is all about teaching you how to communicate effectively with your dog. Dog training is a life-long process and we continue to do exercises every day to reinforce and build on the skills we learned with Terry. In the beginning, I could understand the difficulties the previous owners had had with my dog, now I cannot even imagine that she was that difficult. She is without a doubt, perfectly behaved, and we are now BOTH much happier because of it!
Amy Kindred-Anastasi, MD
Belmont, MA