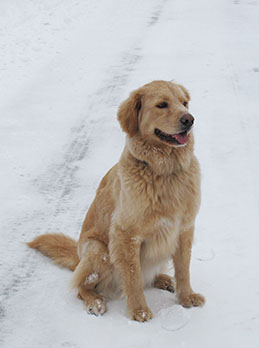 Our rescue Golden Retriever mix is a wonderful dog. He walks well on leash, heels, and is a delight with people and especially children. However, he gets very excited when he sees another dog, pulling on the leash and leaping around which made it very had to walk around populated areas and to allow him to play with other dogs. We read about Terry on Angie's List and contacted her. She called right back to set up a meeting with my husband, our dog and me. She suggested the remote collar, and we had 3 training sessions with another dog and her owner to learn how to use it. We had 3 weeks of practice on those commands before we joined the larger group for the regular Saturday morning sessions which will run for an hour each for 6 months. The Saturday group of about 10 dogs is a good size for meeting other dogs; not too large or too small. Terry's support and suggestions make all the difference. She notices things we can do better, and shares it with the group. We learn from each other and our dogs are learning from each other as well.
Briggs is our 5th Golden, a rescue from the south and a breed mix, which makes for a very different experience. He's also 75 pounds. So control is an issue. However, right from the start we felt more confident with Terry's help. He responded quickly to the remote collar and the subsequent praise which is the most important aspect; he just loves to be praised! When he pays focused attention on another dog we've learned to redirect him. Now after less than 2 months, he will ignore the other dog after one redirection. He's also learning to ignore distractions when I call him to me. He can now heel around and sit near other dogs while completely ignoring them. He can also heel in a line behind and in front of other dogs while staying focused on me. He's also staying in a down position for longer periods of time without returning to me. We have many more months of work with him but we're now confident that we'll have a fine dog who can be around other dogs and play off leash with them in the future.
Nancy & Gresh Lattimore
Lexington, MA
Update…
Hi Terry,
Briggs and I just came back from a walk at Lincoln Field, and I wanted to share my experience.
Right off, there was a guy there with a Flat coated retriever, and he asked if the dogs could play. He and Briggs seemed to have the same temperament and were about the same size, and they played and had a good time. Then a couple with a Golden walked past and Briggs ran over to say hi. When they started to leave, I called him back, and he resumed playing with his new friend. Then another friend of ours came along with her Spinone. Her dog is very laid back, so he was content to just watch the action. After about a half an hour, the owner of the flat coat had to leave, and along came another Golden who Briggs was also very happy to play with. When it was time to leave and I called him back, he came right away; very impressive to everyone.
On the way back, Briggs was off his leash as we continued through the woods. When we got near our car, a big, burly, chocolate Lab came barreling at him. A month ago it would have been messy, but today it was a joyous greeting, as they ran and played together! When his owner decided it was time to continue his run, I called Briggs back, and he came right to me!
All in all, this is what I would call a perfect day!
THANK YOU!
Nancy