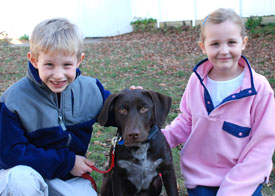 A Major Success Story…
Last fall, with great enthusiasm, we adopted Major, a 5 month-old, Lab-Pointer mix puppy from a rescue organization.
We knew without question right from the start that he was a great dog; loving, funny, and smart, but within a few days, he began to show signs of some dominant and aggressive behavior. He also started jumping on people and furniture, pulled extremely hard while on his leash, and did not respond to corrections.
As a mother with two small children, I became concerned, and knew that I needed to address this immediately. I contacted our vet's office, and they strongly recommended that I contact Terry Christie, at Canine Magic. The very next day, I booked an appointment, and that was the best decision I could have ever made!
The changes in Major were immediate! After just 3 lessons, he was responding to all my corrections. The jumping has stopped, he no longer goes near the furniture, walks like a pro, and even responds to his commands while running off-leash, playing in our yard. At 10 months-old, he is better behaved than most dogs I know. He has become the dog we've always wanted, and now we can all have a productive and loving relationship.
Before I started with Canine Magic, I worried about what we had gotten ourselves into. But now, I no longer feel like there is anything that I can't handle. Best of all, if something does come up that you can't figure out, Terry is ALWAYS there for you, so you never have to worry. She will take you, your dog and your family under her wing, and will support you for as long as you need it. She is unlike any other trainer I have ever encountered. Whenever someone asks me about a trainer, I whip out one of Terry's cards and say "when you are ready to change your life, this is the number you need".
Kate Nesta
Newton, MA